English Courses for Teens
English is one, or maybe THE most important language to learn, and especially in Hong Kong, with English being prominent and used in a big part of school curriculums, in both local and international schools.
At Hong Kong Institute of Languages (HKIL), we understand that success at school is a major key to any student's future. With this in mind, we have specifically designed all our teen courses to assist your child to develop both their language skills and confidence. All our courses use digital tools and audio visual aids to maximise interaction and communication.
The Institute is currently offering:
Special Christmas Offer: 20% OFF any Private Language Courses. Click here for more information
>> Don't miss out and register now! <<
For the past 37 years, we have provided academic support for thousands of teen students, helping them improve their grades, get into the school of their choice, and achieve outstanding results in their exams. All our teachers are fully qualified, experienced native speakers, who know not only how to inspire teens and make their learning enjoyable but also guide them along the path to success. We strive to provide each student with the best possible educational experience in a professional, caring and fun-filled atmosphere.
We offer a full range of General and Exam preparation courses at all levels, and for every need. You can choose from our selection of standard courses or request a tailor-made course designed to your teen's specific requirements and personal needs. We also prepare for the Cambridge KET and BULATS examinations.
All our courses are in line with the Council of Europe's Framework for Modern Languages (CEFR), allowing you to chart every step of your progress and work towards internationally recognised benchmarks and examinations.
Before enrolling on any of our courses, you can enjoy a free level assessment and needs analysis to define your individual course objectives and plan your overall progression.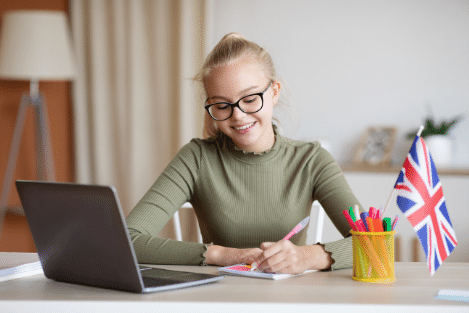 >> English Courses for Children Here <<
General Courses
CEFR Level: Cambridge KET A1
Our Beginner course is designed for complete beginners who would like to learn some practical English that can be put to immediate use. The focus is on developing speaking and listening skills, as well as providing an essential basis for English grammar and vocabulary. The course also introduces essential reading and writing skills. By the end of the course, you will have a basic ability to communicate in English to ask and answer simple questions and to handle some simple everyday tasks (Greetings and basic conversation, jobs and occupations, going to a post office, bank or café…)
CEFR Level: Cambridge KET A2
Our Elementary course is designed to allow you to further build your knowledge of vocabulary and grammar. You will also have the opportunity to develop your skills in order to use English in a wider range of daily situations. The aim is to equip you with the necessary skills to get the information you need and communicate what you want as clearly and effectively as possible.
CEFR Level: Cambridge PET B1
Our Intermediate course is designed to consolidate what you have learned in previous courses. They will also help you to communicate effectively in a wider range of social and work-related situations. You will further develop your vocabulary, reading and writing skills, as well as learn how to distinguish formal and informal language.
CEFR Level: Cambridge FCE B2
Our Upper Intermediate course focuses on further refining your skills, in particular how language is used in different genres. You will explore how the choice of language, vocabulary and grammar affects the tone and style of your speaking and writing. You will also learn how to compare and contrast different structures and when it is appropriate to use them.
CEFR Level: Cambridge CAE C1
On our Advanced Level course, the focus is on developing your accuracy and fluency in equal measure to become a more proficient user of the language. The content for this course has been prepared with the Cambridge Certificate in Advanced English (CAE) in mind, and by the end of the course you will be in a position to take the examination.
CEFR Level: Cambridge CPE C2
Our Proficiency course is designed to develop your ability to produce language appropriate for very specific contexts, such as writing for academic purposes, or for business and commerce. The course can be tailored to your professional, business, or academic needs, and at the end of this course you may choose to take the Cambridge Certificate of Proficiency in English (CPE).
Academic Boosting courses
Speaking Skills Enhancement
General
Having good communication skills in today's world is absolutely necessary. This course is designed to provide students with the opportunity to improve their conversational skills and fluency in English. It is the ideal complement to any school studies, and a must for students who need more speaking practice so that they are better prepared for their oral exams. The atmosphere is social and relaxed, in which everyone is encouraged to interact in English and learn how to communicate in a variety of contexts.
Writing Skills Enhancement
General
This course is designed to provide students with the opportunity to develop their writing skills and grammar awareness. It is of particular benefit to students who need to develop their written skills to successfully pass academic exams. They will learn to make good use of idioms and also write contents based on the situation: essay, motivation letter, online social interaction, etc…
Exams / School Interviews Preparation
Support
A comprehensive programme specifically designed for students who need help to be fully prepared for their upcoming exams. It combines solid academic development with extensive exam guidance, and provides your child with plenty of opportunities to practise the language in various contexts and consolidate their speaking, listening, reading and writing skills. Boost their self-confidence and maximise success with supervised guidance with mock exams and past papers practise, they'll become familiar with the format of their exam.
Interview preparation: we will prepare the student to be ready for typical questions, especially the difficult ones,  and how to answer, by practising school interview simulations. He/she will be full of confidence on interview day.
School / Homework Support
Schooling
Regular courses to support your child's academic progress at school. A comprehensive programme specifically designed to complement school studies, and provide students with the additional support they need to make rapid progress, and significantly improve their overall language performance.
English Exam Preparation Courses
SAT / TOEFL / IELTS
Examinations
Ideal for students planning to take language competence tests for entry to foreign universities or higher education.
International Baccalaureate
IB Diploma
Get a thorough understanding and grounding in the International Baccalaureate key concepts through guided practice with past examination papers, with appropriate marking and performance  reports, in order to maximise your child's final grades. The student will also enrich his/her cultural awareness and gain insight into the countries where English is spoken, learn to communicate appropriately in a range of contexts and or for a variety of purposes and audiences.
Prepare your child more effectively for his/her upcoming GCSE / IGCSE examinations. Develop in depth his/her language skills, such as listening, speaking, reading and writing, including vocabulary building and grammar accuracy. Train for different examination tasks and develop study skills. Practise with mock examinations – with appropriate marking and performance reports, in order to become familiar with the standards required for success at GCSE / IGCSE.
HKDSE - English Language
HKDSE
Prepare your child more effectively for his/her upcoming HKDSE examinations. The students will develop proficiency, fluency, accuracy and confidence. They will learn how to optimise their exam time by effectively analysing and understanding the questions. Your child will receive supportive and comprehensive guidance and evaluation. We are here to help the students reach a higher level of competence, gaining a clear awareness of the examination tasks and appreciation of one's abilities, so as to feel calm, collected and confident on the big day and deliver the best.
Other Courses / Workshops
Mother-Tongue Support
General
The aim of this course is for children to maintain the language of their roots. You child may be going to a local or international school and doesn't get much chance to practice their parents' native language. Mother-tongue support is here to help keeping and improving this language, but also help them with the said language's culture.
Exam & Language Test Preparation
Exam
BULATS and Cambridge exams (KET, PET, FCE, CAE and CPE)
Learn and practise exam techniques and strategies to be fully ready to ace your upcoming exam and/or language test, both written and oral parts.
Cultural Workshops
Culture
To improve your language skills and learn more about the UK and its culture, traditions and way of life. You will learn about the food culture, and the rich heritage of British history. Ideal if you are looking to study abroad or visit the UK.