The Institute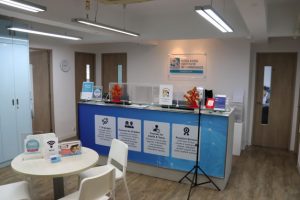 Since 1985, Hong Kong Institute of Languages has been at the forefront of teaching foreign languages to both adults and children. With our extensive teaching experience and expertise, we have enriched the lives of thousands of students, from young children to seasoned professionals, who have come to us for a variety of reasons: to learn a new language, improve their skills, prepare for exams and/or school interviews, meet professional job requirements, or simply enhance their personal lives.
Whether you are looking to study for pleasure or for your career, we have the perfect course to suit your needs.
We specialise in teaching English, French, German, Spanish, Mandarin, Cantonese and Japanese to adults, teenagers and children.
Whichever language you choose, we provide a full range of study options, from beginner to advanced levels, with classes held at our centre in Central, online, or in the convenience of your home or office.
WHY CHOOSE HKIL ?​
All our teachers are highly qualified native speakers with extensive experience, which ensures learning is both efficient and effective​
All our courses have a practical and communicative focus to allow you to put your newly acquired language skills to use right away​
Your progress will be regularly assessed, to enable you to see your achievements and identify the areas you may still need to focus on​
On successful completion of each module, you will receive a certificate of achievement to highlight each stage of your language development​
HKIL is a place where students and their needs come first, to provide you with a unique learning experience
COMMUNICATIVE TEACHING APPROACH
Our dynamic and Communicative Teaching Approach ensures that every student, even a complete beginner, takes an active part in the lessons, and is provided with ample opportunity to practice their language skills.​

At HKIL, your lessons will be effective, interactive and enjoyable. Our team:
Provide specifically designed lessons integrating practical language and cultural elements
Encourage students to interact and actively participate in class, using the target language
Use a large variety of audio-visual aids and documents to train students to communicate confidently in various real-life situations
Offer a friendly and supportive learning environment
Provide regular reviews and feedback on progress
Limit to a maximum of 7 students per class to guarantee optimise interactions
Our HKIL Team
Hong Kong Institute of Languages is founded in 1985 by a French couple, Christian and Dominique Chasset.
Christian Chasset was awarded the "Chevalier dans l'Ordre des Palmes Academiques" (Knight in the Order of the Academic Palms), the French Government's highest honor for academic achievement, for advancing the cause of French culture, education, and the fine arts on May 28, 2007.
The co-founder of HKIL, Dominique Chasset, was awarded the Ordre National du Mérite ("Knight of the National Order of Merit").
Our dynamic team of teachers is the key to our success. Our teaching team includes some of the most qualified and

experienced teachers in Hong Kong.
All our teachers are native speakers and possess professional qualifications in teaching at Diploma, Masters or Doctorate level. Furthermore, all HKIL teachers are required to have a minimum of 2-5 years of extensive experience in teaching their language to foreign students.
Most of our teachers are recruited overseas and all are very carefully selected. In addition to their strong educational background and professional teaching experience, we choose our teachers for their positive attitude, enthusiasm, and pleasant personality. They are truly motivated, and genuinely passionate about language teaching.
To ensure that all of our teachers are kept abreast of the latest teaching materials and methodologies, we also hold regular teachers' meetings, as well as professional training and development workshops.
Through our teachers' expertise and enthusiasm, learning a new language becomes a truly rewarding and enjoyable experience.
If you are interested in joining our teaching team, please submit your curriculum vitae (CV) to info@hklanguages.com.