HKIL Online Courses
At the Hong Kong Institute of Languages (HKIL), our onlines classes are taught by our qualified native teachers. With over 37 years of experience, we make language learning an enjoyable experience.
In our ever so busy life schedule, be it between your work like, social interactions, or your child busy school schedule, online classes offer the flexibility and the possibility to learn in a stress free environment, while keeping all the benefits of a physical lesson. It lets you optimise your study time and work/school time.

Benefits of going online
There are many benefits of going online, with the most first one being the ability to learn from where you want and when you want, while keeping the results. Whether you want to learn French, English, German, Spanish, Mandarin, Cantonese or Japanese online, we have something for you and we can customise courses to your needs.
In a nutsell:
Study wherever you want, even while travelling
Flexible schedule. Book classes around your availability
Tailor made classes available
Be free of the commuting stress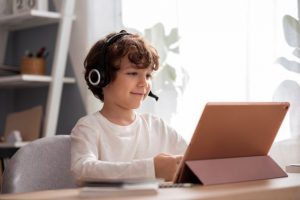 Any queries? Feel free to give us a call with any questions or comments about the above, and we do look forward to hearing from you soon!