HKIL Training Solutions
HKIL Training Solutions is the corporate training arm of the Hong Kong Institute of Languages (HKIL).
Our location in the heart of Hong Kong's business district coupled with our ability to send teachers out to other locations make convenience a key feature. We understand the 24-hour business environment in Hong Kong and appreciate your staff may have to carefully manage their time in relation to language studies. Our courses are therefore arranged to be highly flexible, immediately useful and 100% results-focused.We offer a wide range of training and development services to help your company.
LANGUAGE SKILLS TRAINING
HKIL Corporate offers training courses in seven languages: English, French, German, Spanish, Mandarin, Cantonese and Japanese, at all levels -privately or in a group.
You can choose from any of our ready-made training programmes or request a customised one to meet your company's specific requirements. Some of the business sectors we have designed and delivered training courses for over the past 35 years include: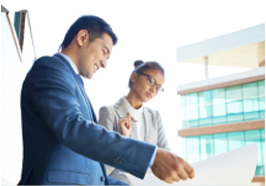 • Banking and Finance
• Insurance
• Legal
• Shipping and Logistics
• Construction and Engineering
• Government Departments and Consular Services
• Property Management
• IT and Telecommunications
• Tourism and Hotels
• Retail and Luxury Retail
WORKSHOPS
The Institute provides short, intensive workshops based around particular areas of language or functions with which your staff may be unfamiliar or need practice, e.g. presentations, emailing. Offering a crash course in Cantonese, Mandarin or English and including tips on culture, business etiquette, getting around, and more, this package is a valuable tool to help your new staff settle into Hong Kong with ease.
BENCHMARKING
We also deliver a full range of testing services and have assisted many companies to accurately assess the language skills of their staff members. Testing can be conducted in any of the languages we offer, independently or as the preliminary to starting a language course, or to prepare for formal exams such as IELTS or BULATS.
EDITING
Editing and proofreading are much more than language correction; they clarify business communications, prevent misunderstandings and contribute to the success of a project. Our highly trained professionals are experienced at editing documents to polish your writing, eliminate spelling, grammar, and typographical errors, and bring coherence and flow to your document so that it will have the maximum impact on your target audience.
Any queries? Feel free to give us a call with any questions or comments about the above, and we do look forward to hearing from you soon!