WINTER CAMP 2022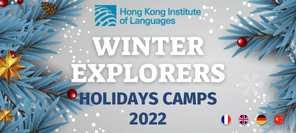 Winter Explorers Camps
Winter is such a mysterious season and is a great time for children to explore, experience, create and acquire new skills while having lots of fun and making new friends.
Our Winter Explorer Camps have been devised with this in mind! Available in 4 different languages, they are the perfect opportunity for your child to have a good time with fun and enriching activities. Your child will play and learn with our professional and experienced teachers. They will get to improve their desired language while being actively involved in all kinds of exciting activities. Our school is offering immersive activity-based language camps in French, English, German, and Mandarin for children from 4 to 12 years old.
Children can enhance their existing language skills, or gain exposure to a new language, through a variety of fun and educational activities.
Programmes:
Christmas Wonderland
Take part in fun and educational activities: cooking, arts & crafts, singing and dancing, and much more.
Don't forget about the letter to Santa!
The Big North Explorer
Let's go beyond the polar circle and explorer the ice floe. Discover the vast frozen lands and its population. A poetic journey to learn more about the people, the animals and mother nature.

When: 19 July to 30 December 2022 (Public holidays included). Morning session: 9.00am-12.00pm, afternoon session 1:30pm-4:30pm, all day options (9:00am to 4:30pm) available depending on demand.
Price:
Half day: HKD 600 half-day session / HKD 2,800 per week
Full day: HKD 1,100 full-day session / HKD 4,800 per week
For any enrolment of 2 weeks, get a 5% discount.
Where: Classes held at Central campus – 2/F, 3/F, 6/F (reception), Wellington Plaza, 56-58 Wellington St, Central, Hong Kong.
If you wish your child to become truly bilingual or trilingual, there is no better time than the summer to get them started!