Free German Lesson to get you started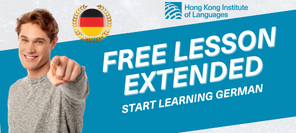 Start Learning German for FREE with us
The Hong Kong Institute of Languages is offering a FREE German lesson to get you started in your language journey.
But "why learn German you might ask?", well here are a few reasons to learn this major European language:
German is the most widely spoken native language in Europe
More than 130 millions speakers worldwide
Germany is home to many global leading companies. Third exporter in the world
It is the first economic force in Europe, and fourth worldwide
German is the language of sciences, innovators, musicians and more
Our school is offering a free German lesson at our school to help you and motivate you to learn this major language, for your curiosity, your thirst for learning and/or to boost your career. This challenge is aimed at beginners.
Select your preferred (s) day(s) to start your FREE lesson. Register here.
Upon registration, get a complimentary gift card of HKD 250 for your future classes with us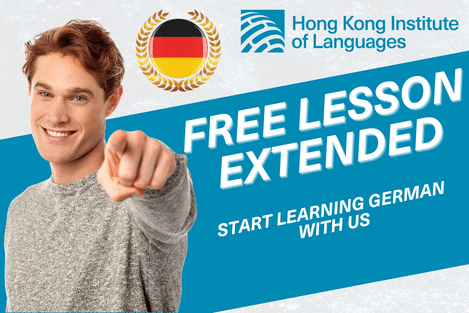 Register now and secure your seat for this awesome challenge
Course Advantages:
✔ Professional: Highly qualified native teachers. Our teaching team is dynamic and passionate and all teachers are professional and experienced native speakers.
✔ Effective: Our learning method will enhance your learning speed
✔ Reliable: A registered education centre with 37 years' teaching experience
✔ Convenient: Located in Central, 5 minutes walk from the MTR station.
The Hong Kong Institute of Languages, a leading educational institution, has been providing language classes, study support, exam preparation and business skills courses in French, English, German, Spanish, Mandarin, Cantonese and Japanese since 1985.
We also specialise in Academic support and Exam preparation/revision courses for secondary students (IB, I/GCSE, GCE AL, CEE, IELTS, SAT and more), and over the years, we have helped countless students succeed in their exams and enter top schools and universities.
Any queries? Feel free to give us a call with any questions or comments about the above, and we do look forward to hearing from you soon!
Tel: +852 2877 6160
Whatsapp: +852 9794 0258 (Adults) / +852 5421 0288 (Kids and Teens)